Hooked and Mounted: A Sportsman Exhibition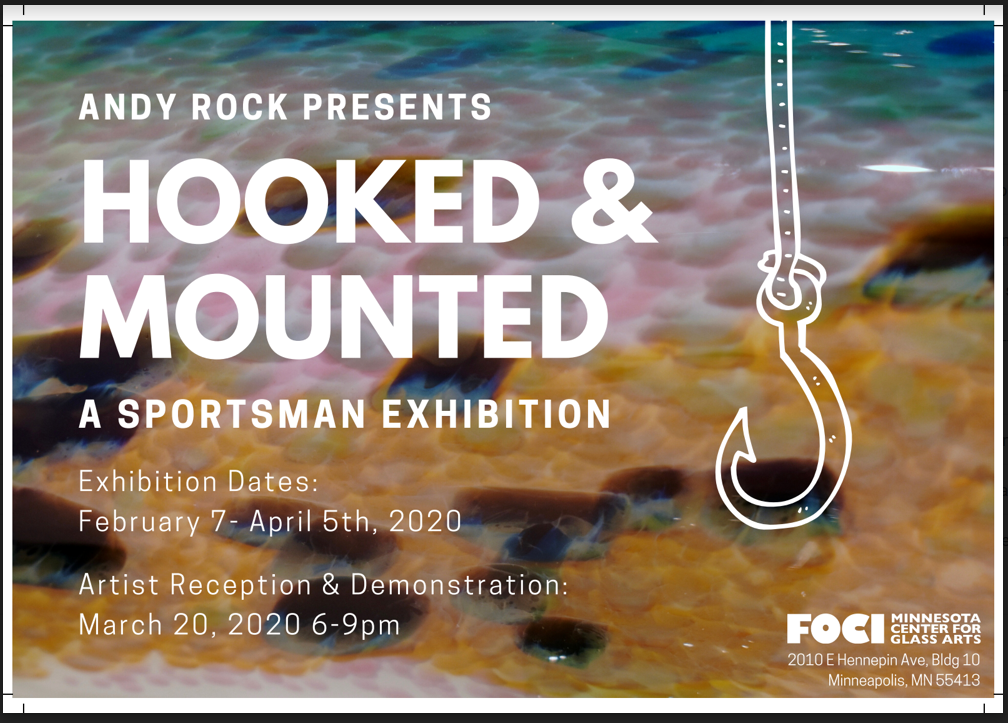 Hooked & Mounted: A Sportsman Exhibition looks at wildlife thru the exploration of mimicking natural beauty tempered by the creation process. It provides the first wandering steps in a long expected journey, pulling together mixed media elements forged into a cohesive harmony. Pursuing interaction with flora and fauna leads to admiration that inspires reverence and humility to imitate in the studio environment, attempting to derive significance through meaningful experience.
Artist Statement:
My engineering background in machine design and new product development is the framework for the creative process. I am fascinated by the design process. To generate a finished product, I develop and master the simple steps to a skill set, creating new permutations of the complicated series each time. Glass has just as short of an attention span as I seem to have demanding constant concentration as its always moving and changing. I take time for brutally honest reflection as continuous improvement is impossible to apply when hindsight is always 20/20. Nothing is ever perfect, therefore, trial and error has always played a key role in my learning process. I adhere to the idea that one should fail faster to achieve success sooner, blunders happen and are necessary for growth.
My passion for the outdoors has been reignited by my wife Kacy and children Colin, William, Addilyn, and Freya. Fond memories from my youth, bonding with friends and family during hunting or fishing adventures, motivates me to further explore the outdoors to share these experiences with my kids. After searching for a new channel to explore with my artistry by blending inventive craft skills with outdoor pursuits, I found the challenge by paying tribute to local wildlife found here in Minnesota and the greater United States. Capturing my desire for free range harvest, these beautiful animals present an amazing opportunity to develop new techniques and processes to mimic the color, shapes and patterns of their form.
Whether it is glass, ceramics, hunting, or fishing, there is a steep learning curve to gain proficiency in a new technique. I have spent an incredible amount of time failing and digging deeper for the resolve to continue the chase. Not necessarily for my own benefit, but to share the rewards and knowledge gained through the experience with the next generation as it's essential to living a meaningful life. Skills can be taught and shared by artists, but how we choose to put them together makes an individual's work unique. Just as my mother had a profound impact on my view of creating art with nature, I hope to inspire others to share time with in the field and studio.